Lean Production: How industrial companies optimize their processes
"Lean management" - more and more industrial companies are looking at the methods and techniques it refers to, which promise more productivity, lower costs and an increase in quality. There is hardly any other sector in which efficiency plays such a major role as in industry. The manufacturer of electronic housings apra also sensed this about five years ago, consistently introduced sensible methods and achieved a productivity increase of almost 100 % in the assembly line with lean production in manufacturing. That's why this expertise is now embodied in a new product line for lean manufacturing: apra-lean. Erwin Neumann, product manager at apra, presents the philosophy of lean production and shows how other companies can also become more successful with it.
A hammer here, various screws there, several pairs of pliers, various screwdrivers next to the adhesive tape, a pack of tissues and a tin of sweets can also be found on the materials trolley along with countless other work tools - who can keep track of everything in this mess, work efficiently and deliver consistently high quality? This is exactly where lean management comes in.
Lean production: origin in the Japanese automotive industry
The history of the emergence of the lean management concept begins with a special production system of the Japanese car manufacturer Toyota. In the 1950s, Toyota was confronted with problems such as a shortage of raw materials, limited financial resources and a lack of space. So what could be done to keep up with the U.S. competition and still meet customer requirements in the best possible way? The solution: produce the highest quality in the shortest possible time and at optimum cost by identifying and eliminating waste and irregularities in the production processes. One measure: resources were only managed according to the just-in-time principle, i.e. materials were only delivered and produced in the quantity and at the time required by customer orders. In a study by the Massachusetts Institute of Technology in the 1990s, the authors referred to this production system as lean production.
Analogous to this term, concepts such as Lean Administration and Lean Maintenance quickly emerged. In the meantime, the term lean management unites all corporate processes - from administration to production - and considers the entire value chain. The concept of lean production is therefore not an invention of the 21st century. However, it is far from being out of fashion. Quite the opposite: Due to current market requirements in the industrial sector, lean production is more topical than ever before. Manufacturing companies are facing several challenges at the same time: high competitive and time pressure, increasing customer requirements as well as cost sensitivity. In order to remain competitive, companies must coordinate production processes, align them with demand, and make them cost-efficient - the techniques of lean production are ideally suited for this purpose.
From Japan to apra in the Eifel: productivity boost thanks to lean techniques
But can a corporate philosophy originating in Japan really be "imported" just like that? "Definitely," confirms Erwin Neumann, product manager at apra, a manufacturer of electronic housings, and adds, "We have achieved a productivity increase of almost 100% on the assembly line using lean techniques." A few years ago, apra faced a problem: Order books were full, orders were increasing - but capacity was stretched. So apra took a cue from Toyota and implemented lean processes. For example, the company changed its assembly layout from island to flow assembly. Lean methods such as 5S also increased efficiency. 5S aims to optimize the workplace through the steps of sorting out, tidying up, cleaning the workplace, making arrangements standard, and keeping and improving all points. "In the past, each tool cart was loaded with hundreds of tools. Now, only the tool the employee needs for the particular manufacturing process is in place. This reduces setup times to almost zero," says Erwin Neumann. Another change was a stronger visualization of the store floor processes. Relevant key figures are communicated transparently on store floor boards. Because even small steps in the sense of a continuous improvement process lead to success according to the lean principle Kaizen.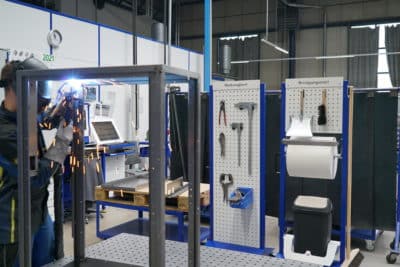 Lean only works in a team
In principle, lean management is an option for every company. Especially manufacturing companies or companies with their own development benefit from Lean Production. This is due to the core elements of Lean Production: an optimized value stream and a focus on customer needs. The introduction of Lean Production or Lean Management places high demands on planners and on every employee. Planners must have a high degree of analytical thinking and must deal intensively with processes, materials and material flows. Employees must be involved in the change processes by the management level and actively cooperate. "Initially, there was some resentment among the workforce about the changes. In this situation, it is important to involve the employees and give them the opportunity to make suggestions for improvement. As soon as employees notice that the adjustments make their work easier, tolerance increases," reports Erwin Neumann. Measures can therefore only lead to lasting success if all those involved see the sense in the changes and the process is continued on an ongoing basis.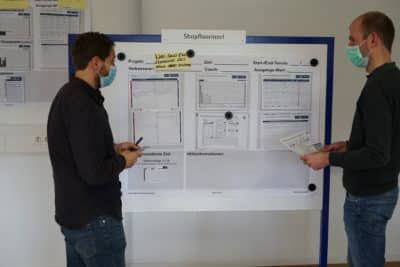 From trainee idea to modular product line
The example of apra shows why it is so important to really get all employees on board. Together with their trainers, the trainees had the idea of developing their own tools for lean production - initially only for internal use. This has since turned into a new business unit: Recently, apra began offering its expertise in the field of lean production to other companies under the name apra-lean. "We have designed a modular product line based on existing products on the one hand, but also on further developments on the other," says Erwin Neumann. The apra-lean modular system includes numerous modules such as racks, shelves, castors or handles, all of which can be combined with each other. apra has attached importance to a combination of standardization and a high degree of process variability. Since the first process adaptation is not always a complete hit, subsequent optimizations are also possible with the help of the modular system. In addition, the products can be adapted not only to their production structure or the process, but also to the employee. On request, the team of the housing expert can also design the configured operating equipment in the customer's colors or supply ready-made assemblies, such as a cleaning island.
One of the first apra-lean customer projects is the development of a module for holding CNC tools for milling machines. The customer previously used small tool carts with several compartments. To grab material from the lowest compartment, employees often had to bend down. The solution is a rack with tool holders, so that the employees not only find their tools clearly arranged, but can also remove them in an ergonomic posture.
Conclusion: Not a sprint, but an endurance run
Lean Production has a positive effect on productivity, throughput times, warehousing and process quality - the apra-gruppe team has proven this to itself. However, it is important that all employees are involved and that there is a willingness to question and adapt existing processes and procedures. A variety of different lean techniques are available for this purpose. Which one is the right one or which mix is suitable can be determined by special lean consultants or by companies that offer lean products in addition to on-site consulting. The general rule for lean concepts is that it is not a sprint, but an endurance run - the motto is to keep at it.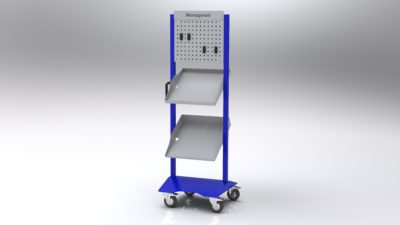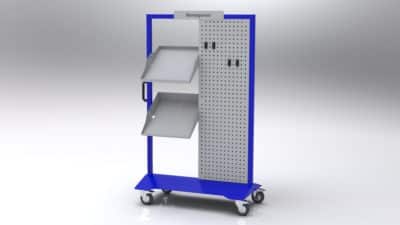 Modular products based on the Lean Management principle
for every application
Modular products based on the Lean Management principle
for every application
With the tool island, the assembly island, the cleaning island and the store floor island, apra-lean offers a product range that ensures order and transparency at your workplace and also supports high-quality work processes.
Due to the modular construction principle you can also compose your Lean Management products individually. The high process adaptability, the possibility of subsequent additions or adjustments and the resulting increase in productivity in the manufacturing process are essential features of the apra-lean product range.
Learn more about Lean Management
We like to share
our experience
in the field of Lean Management.
We like to share
our experience
in the field of Lean Management.